The following construction products are designed to be flexible, durable, highly permeable, and are specifically designed to meet the needs of construction projects by serving these key functions: soil stabilization, soil separation, soil reinforcement and drainage
Woven stabilization fabric
Non-woven filter fabrics
Filter fabrics
Geotextile fabrics
Geogrid (biaxial type 1, type 2) (uniaxial)
Frost protection
Shade cloth
Woven ground cover
Barrier & safety fence
The following construction products are designed to be flexible, durable, highly permeable, and are specifically designed to meet the needs of construction projects by serving these key functions:
Soil stabilization
Soil separation
Soil reinforcement
Drainage
The poor performance of load bearing structures such as road beds, retaining walls or building foundations can often be traced to the presence of subsurface water and build up of pore water pressure.  Non-woven geotextiles can assist in the collection and removal of this potentially damaging water.  Non-woven geotextiles used at the native soil/aggregate interface also protects the drainage system from contamination by soil fines, while permitting free flow of water.  Non-woven geotextiles can also be used as a pond liner underlayment.
Information about Syntec
SYNTEC SBX11
SYNTEC SBX12
Our all-weather polypropylene fabric withstands the effects of sun, rain and wind.
Provides controlled light/shade ratio. Has exceptional uv stability.
Available in seven styles. Supplied in seamless wide widths up to 12 feet to ensure uniform fabric strength and fit your specific requirements.
Light weight for easy, economical installation and storage.
It is made of top quality black monofilament polypropylene, uv stabilized for years of use with a minimum of care. Standard woven widths are 6', 10', and 12'. Custom panels sewn, taped & grommetted to fit your needs.
A strong and durable lock stitched material made of polypropylene.  Its unique construction design offers many benefits such as light weight, less heat buildup and is cost effective.  White color is available in 50% shade.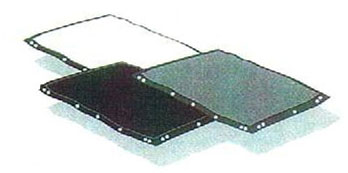 Woven shade cloth fabric
Knitted shade cloth fabric
Size
Shade %
Size
Shade %
10', 12', 15'
30
6', 10', 12'
30
6', 10', 12', 15'
47, 55
6', 10', 12'
40, 50
6', 10', 12', 15'
63, 73
6', 10', 12'
60, 70
6', 10', 12', 15'
80, 90
6', 10', 12'
80, 90
The spun-bond crop protection fabrics provide temperature control and plant protection. These products provide microenvironments for seed germination and insect deterrent in the lightweight spun-bonded .5 oz, to frost protection in the white 2 oz. They are uv treated for longer life and can help extend plant flowering seasons.